6 Reasons to go for Magento eCommerce Solution
First thing first, why you should go for magento eCommerce solution?
It offers multi store functionality, User & SEO friendly, sales tracking, a large pool of extensions to select from, offers customized solutions & much more. It offers a series of extraordinary features that a store owner would dream of.
Lets study the below mentioned 6 reason to go for magento.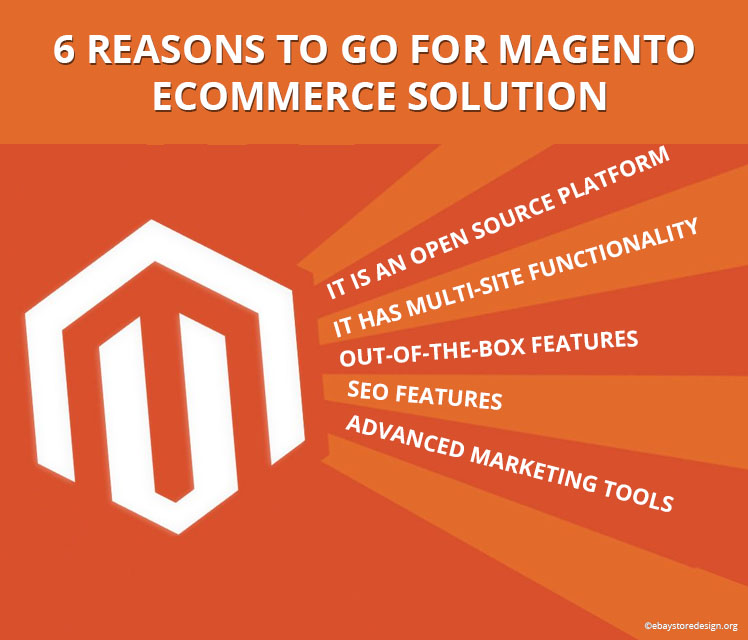 It is an Open Source Platform
Magento is an open source eCommerce platform in terms of cost, returns, sales, buyers & much more. This makes magento more beneficial compared to other eCommerce platforms.
It has Multi-Site Functionality
Multi site function is an amazing feature that makes Magento the most preferred eCommerce platform among sellers. This feature allows sellers to create additional websites on their own unique domain.
Out-of-the-Box Features
Magento CMS offers standard eCommerce site that includes customer accounts, order management, catalog & product browsing, advanced search feature, multi payment processing gateways & shipping. It also offers marketing & promotional tools.
SEO Features
The SEO features of Magento offers meta tags, SEO optimized descriptions, clean URLs & HTML with site navigation.
Advanced Marketing Tools
Magento offers integration of google analytic, sales & store tracking with advanced marketing insight. It enables to track sales, traffic, store performance & report filtering by customers.
Wide Array of Extensions
Magento extensions help sellers & developers to customize their Magento stores. There are numerous apps with review & rating that help you decide which is the best.
So, what do you think? Do you need Magento web design services? Want to thrive on this super incredible eCommerce platform? Request a FREE quote from our expert team.
Get a FREE quote now so that we can start your magento design instantly. Browse our portfolio & have a look at our current work.