3 Mind Blowing Magento eCommerce Design from our Expert Magento Developers
Our work speaks more than us! See beautifully designed & decorated 3 magento eCommerce design projects from our highly skilled magento developers. Click links to see the websites running LIVE.
Let us review them one by one for your convenience. Fasten your seat belts because you are going to get blown away.
#3 etech town
The website – etech town has all those elements that are necessary for an online site selling latest gadgets & equipments. A full fledge but neatly designed header section with store logo, regular menu items & additional links like "Wholesale | New Products | Hot Products | Specials | Drop-Shipping".
We maintained categories with hot products & suggested products elevate the overall beauty of the design & also help buyers to select their desired products on the go.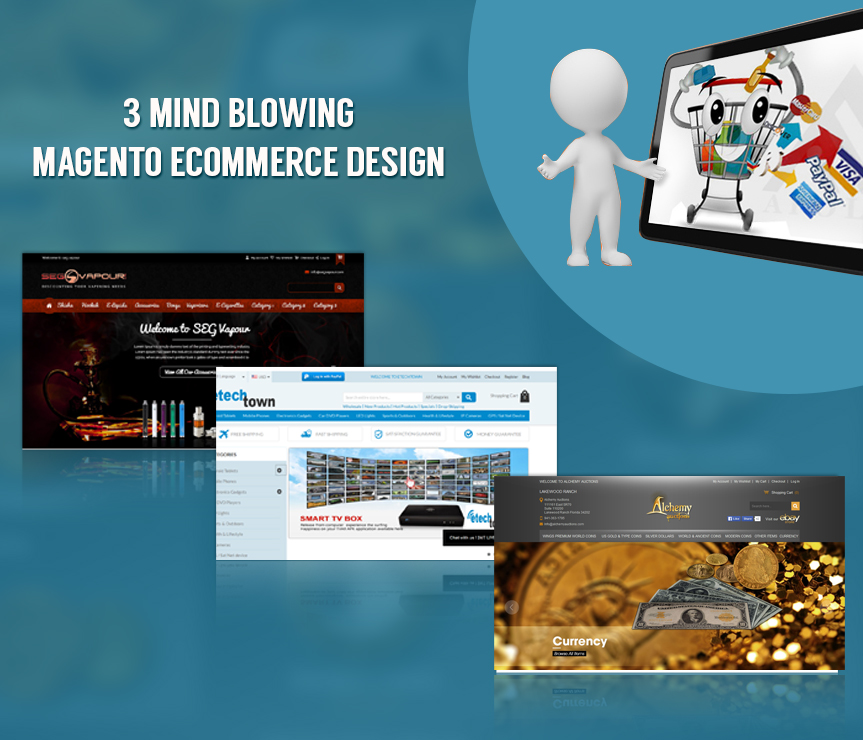 Benefits of this design
Neat & clean category panel to select products
Hot products for customers to choose from
Recommended products from Sellers
Crystal clear product image & description
Zero distraction in the design
Multiple payment gateways in the footer section
24×7 LIVE chat option
Click https://www.etechtown.com/ to see the website LIVE!
#2 Alchemy Auctions
Alchemy deals in all kind of currency coins like premium, gold, silver, modern, ancient etc. This amazing website is the ultimate destination for coin collectors. Fabulous rotating banners in coins & currency graphics are center of attraction for the visitors.
Let's look upon the benefits if this design:
Address, email & contact details on the home page denote a trust factor in buyers that they are dealing with real humans.
Left category panel is absent. This is the master stroke in the design. Apart from regular left category panel below the banner all the product categories are placed in bold & big texts.
The product category is quite visible for buyers to select & shop easily.
Everything aligned in an even tone to facilitate buyers with maximum information on their products. See the drop down menu.
Click http://alchemyauctions.com/ to see the website LIVE!
#1 SEG Vapour
A mesmerizing blend of red & black color is enough to blow your visitors at the first look! Seg vapour with our expert designers has integrated a brilliant theme design to attract buyers.
Benefits of this magento eCommerce design
High end graphics banner to promote products in the first look
When you mouse over on the product listing the background turn black highlighting the product price & description only. This will tempt buyers to click & see more.
The footer section is very simple with all useful & information links. The design is straight forward. It says the visitor "when you are here for shopping then forget everything just shop". A brilliant idea!
Click http://segvapour.co.uk/ to see the website LIVE!
We have more magento website development services for you in store. Browse them. You can also speak directly with our magento developers. We are open for all.
If you like the themes of any of the above designs then contact us. We can make even better design for you.